Functional Oil
---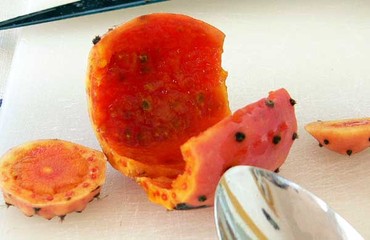 Fruit of the prickly pear
Many functional plants of arid land origin grow in Tunisia. In addition to the high polyphenol olive, the list of plants with high functional properties includes the prickly pear, date and pomegranate.
Especially, Prickly pear oil, also known as cactus seed oil, is made from the seeds of the fruit of the cactus plant. It is a very rare oil that can be squeezed down to only about 1 liter from 35-40 kg of seeds from 1.2 tons of fruit. As for date oil, only about one liter can be pressed from 400-500 kg of date seeds.
Partner Companies
Herbiotech Aroma S.A.
Became a partner company through the Jica BOP project and JETRO Africa Business Demonstration Project.
The company was established in December 2011 and began full-scale operations in February 2013. The company is a venture business run by a management team in their 30s that actively employs and trains local youth and women. The company has had a significant social impact and is expected to grow significantly in the future.
Product Lines
Organic seed oil (black cumin seed oil, mastic tree oil, linseed oil, jojoba oil, etc.)
Organic essential oils (rosemary, neroli, etc.)
The quality is high and stable as they manage everything from the fields to production in-house at their own farms and contract farmers. In addition to organic JAS certification, their products are certified by Ecocert, USDA and other organizations for organic farming. In addition to Japan, they sell their products in 7 countries in Europe, including the United States, Canada, Germany, the United Kingdom and France.
Herbiotech Aroma S. A. Website
Carthage Botanicals
Product Lines
Organic oils (cactus oil, mastic tree oil, etc.)
Organic essential oils (rosemary, cypress, eucalyptus, myrtle, etc.)
Local women are hired to work as a team to collect and manufacture raw materials that are native to national forests and woodlands. The company provides not only employment opportunities for women, but also a great social impact by providing an educational environment for children. In addition to Japan, the company has sold its products in Germany and France.